Departmental Profile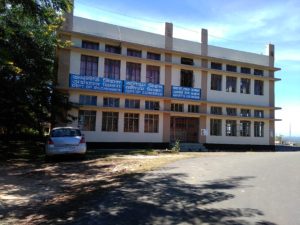 The Department of Economics is one of the first six departments of Assam University which began its journey in July 1994. The major activities of the department include imparting quality education to students admitted to the different academic programmes of the department and supervision of scholars at Ph.D. and M.Phil levels. The department has been laying special emphasis on developing proper understanding of the socio-economic problems and specifities of North East India. The on-going researches in the department cover such areas as agricultural economics, social sectors, human development, environmental economics, demography, gender studies, and applied econometric issues like efficiency and productivity measurement, among others.
Courses Offered
| Courses Offered | Duration | Number of Seats | Program Course Structure |
| --- | --- | --- | --- |
| M.A. (by course work) | Four Semester | 77 | Syllabus new w.e.f October, 2022 |
| M.Phil (by course work & dissertation). | Semester | | |
| Ph.D. (by course & research work) | | | |
| D. Litt. (by research work) | | | |
Faculty
Name & Qualification
Designation
Area of Specialization
Contact & Email ID
Niranjan Roy, Ph.D.
Professor
Agricultural Economics,Environmental Economics and Social sector issues
roy_niranjan@yahoo.com
Alok Sen, Ph.D.
Professor
Micro Economics, Environmental Economics, Econometrics
alok.sen@aus.ac.in
M. A. Ansari, M.Phil.,Ph.D.
Professor
Political
Economy, Agricultural Economics
mahmood.alam.ansari@aus.ac.in
Ritwik Mazumder, Ph.D.
Professor
Statistics and Econometrics (Econometric Modeling And Applications, Mathematical Statistics) & Environmental Economics
r_itwikm@yahoo.com
ritwiksmazumder@gmail.com
ritwik.mazumder@aus.ac.in
Raju Mandal, M.A.
Associate
Professor
Macroeconomics, Environmental and Natural Resources Economics
raju.mandal@aus.ac.in
Avijit Debnath, PhD
Associate
Professor
International
Economics.
avijit.debnath@aus.ac.in
Sagarika
Dey, Ph.D.
Assistant
Professor
Econometrics, Rural Development & Rural livelihoods, Micro-Economics
sagarika.dey@aus.ac.in
Dr. Manash Roy
Assistant
Professor
Econometrics & Demography

manash.roy015@gmail.com

Dr. Amrita Pramanick, Ph. D.
Assistant
Professor
Microeconomics, Game Theory, Contract Theory, Theory of Incentives, Industrial Economics

amritapramanick87@gmail.com

amrita.pramanick@aus.ac.in

Dr. Sanjay Sinha, Ph. D.
Assistant
Professor
Econometrics
sanjaydmc84@gmail.com
Head of the Department
Prof. Ritwik Mazumder
03842-270853 (O)
Placement
Many former students of the department are now serving as faculty members in colleges and other academic institutions both within and outside North East India. The passed out students are also engaged in banks, insurance, and other public sector industrial and service organizations.