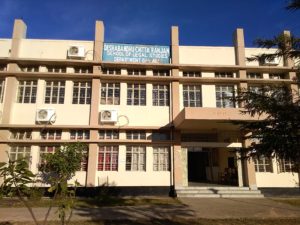 Departmental Profile
The Department of Law under the School of Social Sciences started functioning in July 2004. The department offers a five-year integrated course leading to the degree of B.A. LL.B. (Hons.). In the year 2011, an LL.M. Programme has been started in the department.
Courses Offered
Faculty
Name & Qualification
Designation
Area of Specialization
Contact & Email ID
Dr. Madhumita Dhar Sarkar
Professor
Jurisprudence, Environmental Law, Criminal Law
madhumita.dhar.sarkar@aus.ac.in
Dr. Rashmi Ranjan Mishra
Associate Professor
Criminal Law, Criminology & Penology, Juvenile Justice, Interpretation of Statutes, Research Methodology
rashmi.ranjan.mishra@aus.ac.in
Dr. Partha Pratim Paul
Assistant Professor
Indian Jurisprudence, Intellectual Property Rights, Comparative Constitutional Law, Law and Social Transformation and International Trade Laws
partha.pratim.paul@aus.ac.in
Dr. Priya Ranjan Kumar
Assistant Professor
Constitution & Administrative Law, Contract & Corporate Law
priya.ranjan.kumar@aus.ac.in
Dr. Amitabh Singh
Assistant Professor
Criminal Law, Criminology, Code of Civil Procedure and Women related law
amitabh.singh@aus.ac.in
Dr. Umesh Kr. Sharma
Assistant Professor
Criminal Law
umesh.kumar@aus.ac.in
Ms. Pompita Paul
Assistant Professor
Criminal Law, Constitutional Law and Family Law
pompita.paul@aus.ac.in
Dr. Suranjan Das
Assistant Professor
Research Methodology, Sociology of Health, Sociology of Marginalized Community, Sociology of Crime and Deviance
suranjan.das@aus.ac.in
Mr. Bishwajit Das
Assistant Professor
Intellectual Property Laws, Right to Information laws, Administrative law and Constitutional law
bishwajit.das@aus.ac.in
Ms. Ponkhi Borah
Assistant Professor
Criminal Law, Constitutional Law and Human Rights
ponkhi.borah@aus.ac.in
Dr. Nasruddin Khan
Assistant Professor
Modern Indian History and Legal History
nasruddin.khan@aus.ac.in
Ms. Thejani-i Pohena
Assistant Professor
African- American Literature, Post-Colonial Studies
thejani-i.pohena@aus.ac.in
Mrs. Dristirupa Patgiri
Assistant Professor
Human Rights, International Law, Gender Justice & Feminist

Approach

dristirupa.patgiri@aus.ac.in
Mr. Ashish Ransom
Assistant Professor
Business Laws and Intellectual Property Rights
ashish.ransom@aus.ac.in
Mrs. Deepshikha Bhattacharjee
Assistant Professor
Indian Government and Politics, State Politics in Assam, Comparative Politics
deepshikha.bhattacharjee@aus.ac.in
Mr. Sandeep Kumar Suman
Assistant Professor
IPR,GI, Procedural Laws, ADR
sandeep.kumar.suman@aus.ac.in

sandeep007law@gmail.com
Head of Department
Prof. (Dr.) Madhumita Dhar  Sarkar
  03842-270377(O)
Placement
The first batch of students admitted to the integrated B.A.LL.B. are now in Tenth Semester. Placement Prospects of the Law Students are relatively bright.