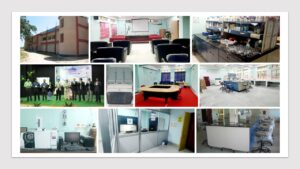 Departmental Profile
The department of Microbiology started functioning from session July 2009-2010. The main objective and focus of the department is to guide and impart innovative education at par with International standards. The department endeavors to specialize its student in distinct areas of Microbiology. The duration of the Master degree course is of two years having four semesters. First year of Masters program deals with training in core courses like General Microbiology Bioinstrumentation and Computer Applications, Mycology and Phycology, Microbial Physiology and Biochemistry, Cellular Microbiology and Immunology, Virology, Molecular Biology and Recombinant DNA Technology, Microbial Genetics. In second year students will have exposure of Parasitology, Medical and Veterinary Microbiology, Soil and Environmental Microbiology, Industrial Microbiology and Fermentation Technology, Food Microbiology. Further, in the fourth semester students will have to work on a research problem and submit the dissertation.
The faculty members of the department receive research grants from different agencies including DST, DBT, MoEF, ICMR and CSIR. Research students get selected and enrolled for Ph.D according to availability of seats.
Head of Department
Prof. Piyush Pandey (Ph.D)
Facilities
1. Departmental Library
2. Computer Lab
3. Molecular Microbiology Lab
4. Soil and Environmental Microbiology Lab
5. Industrial Microbiology Lab
6. Medical Microbiology Lab
PG Practical Lab and LAF room
Placement
Since the inception of the department, the students have been regularly placed in different Industries and prestigious Research Lab. Details of some of these students is available
at this link
.
Events
The department organizes Conferences and Workshops on regular basis. Details of some of these events are available at this link.
Alumni
Since establishment of the department, several batches of M.Sc. and Ph D. students have passed out. The alumni members of department are in active contact and provide valuable feedback in improvement of syllabus, placements and other related matters.