About the Department
"To ask why we need libraries at all, when there is so much information available elsewhere, is about as sensible as asking if roadmaps are necessary now that there are so very many roads."

–

Jon Bing

Thanks for visiting the LIS Department's site.
Why One More Department in LIS?
"No matter what question you ask a librarian, you can trust he / she will find you the right answer. This is what the Library Profession is."
Library and information professionals are needed not only to gather, organize and coordinate access and use of the best and rich available information resources but also to package, repackage and market them to ensure their effective access and utilization by the target audience. The application of ICTs, particularly the computers, Internet, Intranet and other network technologies have continued to impact positively on the methodologies of library and information service delivery, education and training of information service providers as well as the information needs and seeking behaviors of the information seekers. This leads to a shift of paradigm of the library and information profession, education, training, and services from the traditional type of librarianship to the modern/hybrid type of librarianship characterized by client-oriented professionalism. In Assam, only two state universities i.e., Gauhati University and Dibrugarh University have started regular courses in library and information science till 2009. However, there are various centers in Assam set up by different universities for LIS education to study in distance mode. Gauhati University is the first in the history of LIS education in Assam which had been established in 1967 with all possible infrastructural facilities along with full-time faculty members. The department in Dibrugarh University has been established in 2005 and named CLISS (Centre for Library and Information Science Studies) but without any full-time faculty members. Both these departments have shown the paths to the students to accept LIS as a profession. But none of these universities have yet started an MPhil course.
Here, in the southern part of Assam, the Department of Library and Information Science has been set up by Assam University in 2009 with its specific vision and missions. The department started its first batch in 2010.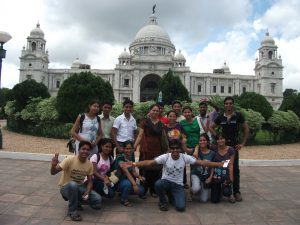 It is a remarkable addition in LIS education not only for NE Region but also for the country with its unique features as well as its own new building and infrastructure. As declared by the former Honb'le Vice-Chancellor Prof. Topodhir Bhattacharjee on its university's foundation day on 21st January 2011 the department has got its own separate school named as 'Swami Vivekananda School of Library Sciences' and will have different centers for specialized LIS education. Of course, the establishment of this department at Assam University is a step towards excellence in LIS education.
Vision of the Department
The Department of Library and Information Science at Assam University, Silchar educates students in the principles, practices, and ethics of library and information science, imbues them with a sense of service to diverse populations, and prepares them to be life-long learners and active leaders in a rapidly changing information and knowledge society.
The mission of the Department
The Department of Library and Information Science of Assam University is committed to the University's mission of teaching, learning, research, and community services. As a professional department, it will be the department of choice in Assam in general and Barak Valley in particular, which will educate its students, in both theory and practice, to identify, acquire, organize, and disseminate information. By integrating technology across the curriculum, the department will impart the knowledge and skills of the profession in preserving and providing access to the records of our cultural heritage and the documents of scholarly research. By nurturing research, innovation, and service, the department will strive to offer high-quality student-centered programs necessary to prepare library and information professionals in the knowledge society of the 21st century.
What We Desire to Have?
The Department of Library and Information Science will be respected both nationally and internationally as a leader in producing information professionals. The department will be noted for its production of trained and professionally qualified librarians and other information professionals who are motivated to leadership and service. Those LIS Professionals would be knowledgeable and ethical in their professional practice. While recognizing the rich cultural and technological heritage of their fields, they will be prepared to make themselves adaptable in changing environments and also would be lifelong learners.
Department's Journey?
The department started its functioning in 2009 under the School of Information Science with three regular faculty members. This department has been the thirty-fourth department under the nine different schools of Assam University. The department was started from a temporary building near the Bipin Chandra Paul Auditorium with three rooms only. Dr. Manoj Kumar Sinha who had been working as Assistant Librarian in Rabindra Library appointed as Reader cum Head.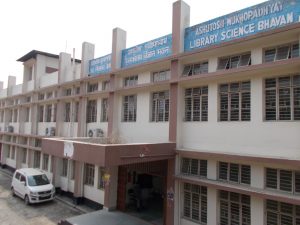 The department had been shifted to its new permanent two-storied building on 2nd August 2009 which is situated just behind the Rabindra Library. It started with the intake capacity of 25 students for Masters Degree in Library & Information Science. One faculty had resigned and two other faculty members Dr. Nabin Chandra Dey and Mr. Rajesh Rangappa Aldarthi joined as Assistant Professor. Now, there are only a team of four faculty members. The department has started its MPhil and PhD Programmes.
The students come from different communities and places mainly from the Barak Valley, Brahmaputra Valley of Assam, and different parts of North East and other states of India.
Floor Plan: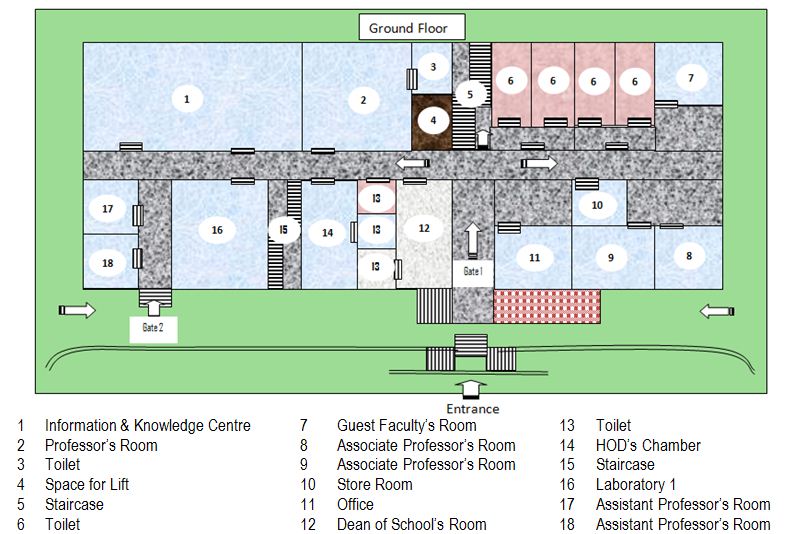 (Note: Room No. 20, 24, and 25 on the first floor are kept by Authority for Distance Education and other purposes)
Major Goals / Aims to be Achieved:
We, the members of the Department of Library and Information Science, Assam University are dedicated to teach the theories, knowledge, and skills students need to be proficient practitioners capable of preserving the records of the past, managing current resources, and transforming the future through appropriate use of modern technologies. We are committed to train/groom students to become critical thinkers, active learners, and creative scholars who can contribute to the body of knowledge in our LIS field. We also believe in the interests of our profession, our communities, our nation, and our world which are best served through competent LIS staff. The department is very new but we have got overwhelming support from the authority.
Head of the Department : Dr. Mukut Sarmah, BSc(Hons), MLISc (GU), UGC-NET, PhD (GU)