Departmental Profile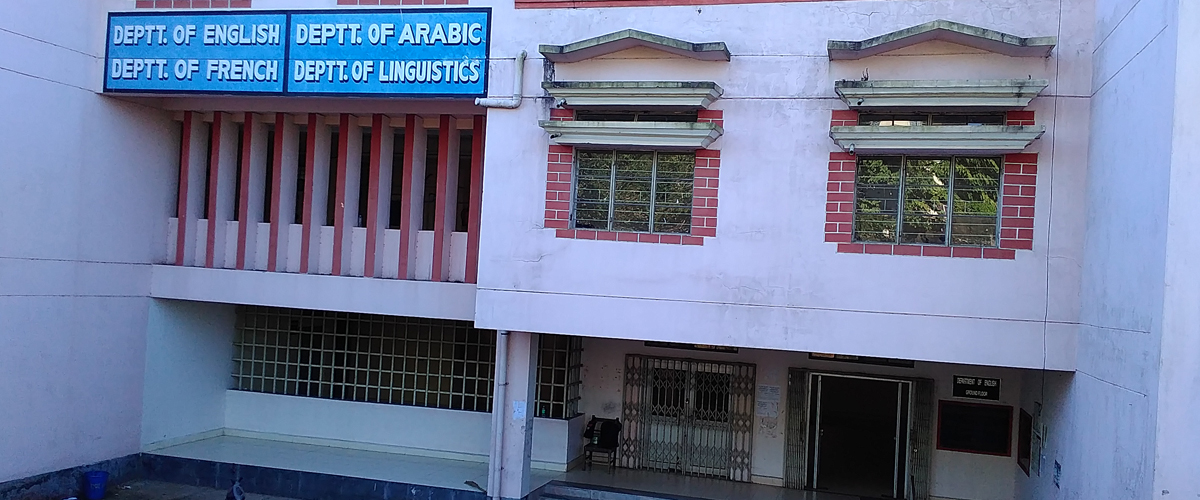 The Department of English commenced its journey in 1994 (the year of the establishment of Assam University) and it has been one of the first six flagship departments of this institution. Since the time of its inception, the department has remained profoundly committed in offering its service towards the multilingual, multiethnic communities of Southern Assam. The Department visualises achieving excellence in pedagogy and research in multi-disciplinary areas keeping in mind the interface between literature and language on the one hand and society and culture on the other.
Students hailing from various parts of the country have been pursuing their studies for M.A., M. Phil., and Ph.D. Degrees from this department. The Department offers one of the most sought after PG programmes of the University. The core component of the PG Programme is British Literature, closely followed by courses and papers covering almost all the latest areas of English Studies like Critical Theory, American Literature, Postcolonial Literature, Translation Studies, Gender Studies and Film Studies (Open Choice). The syllabi for different paper/courses of P.G./M.Phil/Ph.D. is updated periodically keeping in mind the current thrust areas of literary and cultural studies. The success rate of the students has  been very good over the years.
The ICT-based Smart Class Room system available in the Department enhances the teaching-learning experience. The Departmental library aids the students and the research scholars with books and infrastructure. The emphasis of the department is on developing an interdisciplinary approach in teaching and research, which broadens the skills and outlooks of students and keep them updated on major socio-cultural issues along with studies in and research about English literature.
| Courses Offered | Duration | Number of Seats | Program Course Structure | |
| --- | --- | --- | --- | --- |
| M.A.(by course work) | Four Semesters | 62 | M.A(Syllabus) | |
| M.Phil   (by course work & dissertation) | | | | |
| Ph.D. (by course work & research work) | | | | |
| D.Litt (by research work) | | | | |
Faculty
Name & Qualification
Designation
Area of Specialization
Contact & Email ID
Dipendu Das,  Ph.D.
Professor
Drama Studies, New Literatures in English, Indian English Writing and Translation Studies
dipendudas2011@gmail.com
Baby Puspa Sinha,  Ph.D.
Professor
American Fiction
baby.pushpa.sinha@aus.ac.in
Anindya Syam Choudhury,
Ph.D., PGCTE, PGDTE (EFLU), Cert TESOL (Trinity London)
Professor (HoD)
ELT, Stylistics, Indian Writing in English, Northeast Studies
anindya.syam.choudhury@aus.ac.in
anindyasyam@yahoo.com
Saugata Kumar Nath, M Phil, Ph.D.
Professor
Drama Studies, Indian English Writing, New Literatures in English
saugata.kumar.nath@aus.ac.in

saugatakn@gmail.com

Sumana Chakraborty, M.Phil, Ph.D.
Assistant Professor
Fiction, American Literature, Postcolonial Literatures, Literatures of the Diaspora, Film Studies, Gender Studies.
sumana.chakraborty@aus.ac.in

csumone@gmail.com

Lalthakim Hmar, Ph.D.
Assistant Professor
Literary Theory, Culture Studies, Women's Studies.
lalthakim.hmar@aus.ac.in
Sib Sankar Majumder,  Ph.D
Assistant Professor
Drama & Theatre Studies, Postcolonial Literature
ssmaus1980@gmail.com
Jaydeep Chakrabarty,  Ph.D.
Assistant Professor
British Literature, Postcolonial Literatures and Theory, Critical Theory,
Comparative Literature, Cultural Studies, Queer Studies, Men's Studies
jaydeep.chakrabarty@aus.ac.in

mailculturestudies@gmail.com

Anindya Sen,  M.Phil
Assistant Professor
Modernism, Post Modernism
anindya.sen@aus.ac.in
Head of the Department:
Prof. Anindya Syam Choudhury
7002822749
Placement
A large number of passed out students of the Department are now employed as teachers in different universities, colleges and other educational institutions in India. A good number of students have found placements in various industrial and service organisations in different parts of India. Some are also employed in the corporate sectors.