Departmental Profile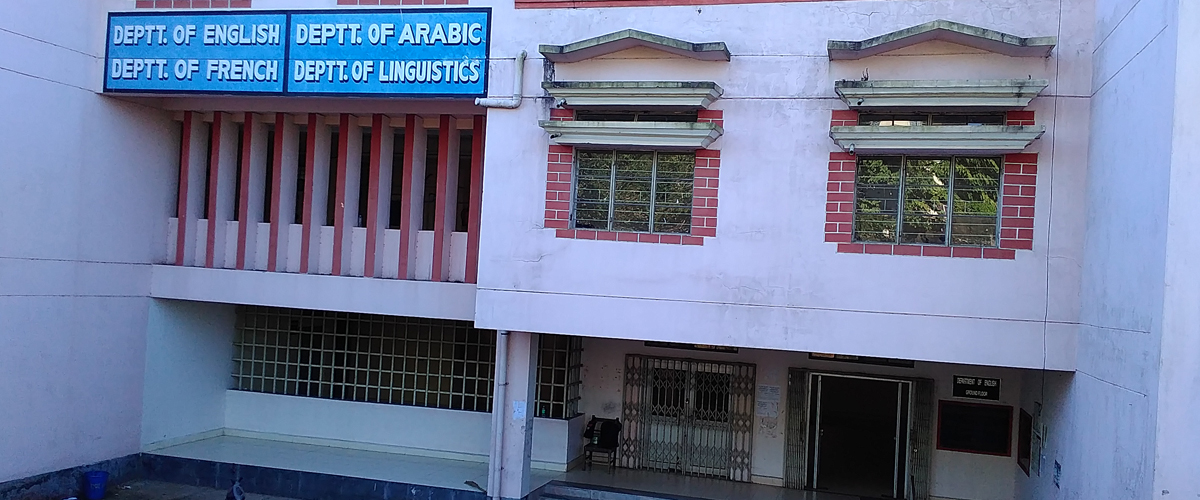 The Department of English began its journey in 1994 (the year of the establishment of Assam University). Since then the students hailing from various parts of the country have been pursuing their studies for M.A., M. Phil., and Ph.D. Degrees. The success rate of the students has all along been very good. The MA program and the research activities of the Department place particular focus on various fields of studies like, British English Literature, American Literature, Indian English Literature, Indian Literature in English Translation, New Literatures in English, Ethnic Literatures, Cultural Studies, Drama Studies, Postcolonial Studies, Translation Studies, and English Language Teaching, etc.
The ICT – based Smart Class Room system available in the Department helps in better teaching with the use of Audio-Visual aids. The Departmental library has been expanded with the addition of new books and infrastructure
| Courses Offered | Duration | Number of Seats | Program Course Structure | Timetable |
| --- | --- | --- | --- | --- |
| M.A.(by course work) | Four Semester | 50 | M.A(Syllabus) | |
| M.Phil   (by course work & dissertation) | | | | |
| Ph.D. (by course work & research work) | | | | |
| D.Litt (by research work)…… | | | | |
Faculty
Name & Qualification
Designation
Area of Specialization
Contact & Email ID
Dipendu Das,  Ph.D.
Professor
Drama Studies, New Literatures in English, Indian English Writing and Translation Studies
dipendudas2011@gmail.com
Rama Prasad Biswas, Ph.D.
 Professor
Narrative/ Discourse Analysis, Modern and Postmodern Literature
rama.prasad.biswas@aus.ac.in
Baby Puspa Sinha,  Ph.D.
 Professor (HoD)
American Fiction
baby.pushpa.sinha@aus.ac.in
Anindya Syam Choudhury,
Ph.D., PGCTE, PGDTE (EFLU), Cert TESOL (Trinity London)
Associate Professor
ELT, Stylistics, English Linguistics, Indian English Writing
anindya.syam.choudhury@aus.ac.in
anindyasyam@yahoo.com
Sumana Chakraborty, M Phil, Ph.D.
Assistant Professor
Fiction, American Literature, Postcolonial Literatures, Literatures of the Diaspora, Film Studies, Gender Studies.
sumana.chakraborty@aus.ac.in
Saugata Kumar Nath, M Phil, Ph.D.
Assistant Professor
Drama Studies, Indian English Writing, New Literatures in English
saugata.kumar.nath@aus.ac.in
Lalthakim Hmar, Ph.D.
Assistant Professor
Literary Theory, Culture & Women Studies.
lalthakim.hmar@aus.ac.in
Sib Sankar Majumder,  M.A
Assistant Professor
Drama & Theatre Studies, Postcolonial Literature
sib.sanjar.mazumdar@aus.ac.in
ssmaus1980@gmail.com
Jaydeep Chakraborty,  Ph.D.
Assistant Professor
Commonwealth and Postcolonial Literature, Theory
jaydeep.chakraborty@aus.ac.in
Anindya Sen,  M.Phil
Assistant Professor
Modernism, Post Modernism
anindya.sen@aus.ac.in
Head of the Department
Dr. Baby Puspa Sinha
9435147652
Placement
A large number of passed out students of the Department are now employed as teachers in different universities, colleges and other educational institutions in India. A good number of students have found placements in various industrial and service organisations in different parts of India. Some are also employed in the corporate sectors.