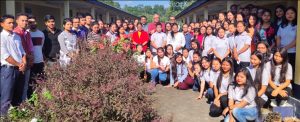 Year of Establishment
2007
Departmental Profile – English
The Department of English at Diphu Campus of Assam University had its inception in 2007 and it offers Post Graduate Course in English as well as M. Phil and Ph.D programmes by Course Work. The MA syllabus (CBCS) in addition to basic courses put special focus on contemporary theoretical development, Indian writing in English, American Literature, Postcolonial Studies and English Language Teaching. The research scholars who are pursuing Ph. D and M. Phil are working on multiple areas of research viz. Northeast Literature, Contemporary Black British Literature, Postcolonial Literature, Feminist literature, American Literature, Indian writings in English, Literatures from the Sub-continent, Drama Studies etc.
Courses Offered
| Courses Offered | Duration | Number of Seats |
| --- | --- | --- |
| MA (by course work) | Four Semesters | 75 |
| M.Phil. (by course work and dissertation) | | |
| Ph.D. (by course work and research work) | | |
Faculty
Name & Qualification
Designation
Area of Specialization
Contact & Email ID
##Sivasish Biswas, M.Phil, Ph.D,PGDTE
Professor
Fiction, Postcolonial Studies, Indian Writings in English, Northeast Literature
sivasishbiswas@gmail.com
7002354369
Bishnu Charan Dash, Ph.D.
Professor
Poetry, American Literature, Comparative Literature, Cultural Studies
bcdash11@gmail.com
9435328304
Anup Kumar Dey

M. Phil, Ph.D

Associate Professor
Drama Studies, Postcolonial Studies, Indian Writings in English, Northeast Literature
deyanup1@gmail.com
7002504730
Indu Swami,MPhil, Ph.D, DCE, CTE
Assistant Professor
British Literature, Literary Criticism, Feminist Literature
induswamionline@yahoo.com
9678743724
Mr. Amlanjyoti Sengupta, MA, PhD, PGCTE, PGDTE
Assistant Professor
ELT, Indian Writings in English
senguptaa95@gmail.com
8133827899
Shreyashi Mukherjee

M. Phil, Ph.D

Assistant Professor
Postcolonial Theories, African American Literature, Gender Theory
shreyamukh2014@gmail.com
8011174476
## Presently Pro Vice Chancellor of Assam University, Diphu Campus
Head of the Department
Dr. Anup Kumar Dey
Contact No. 7002504730 (M)
CRITERIA FOR ADMISSION IN MA: As per the latest Admission Notification of Assam University. Relaxation is admissible as per GOI rule.