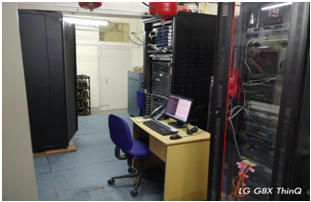 Assam University Computer Centre is established in March 1997. It provides ICT related services to both the campuses of Assam University. It is the Gateway to the 1Gbps National Knowledge Network (NKN) for internet access. Servers, High-end Switches, nodes and wi-fi Devices are connected to Assam University Campus Network (AUCN). AUCN is also extended to the second campus at Diphu.
The best practices of the Computer Centre are –
AUCN and internet Services.
Campus Wi-Fi services.
University Web, Mail, DNS services, etc.
Software Development & Maintenance: File Tracking and Monitoring System, NKN Wi-Fi Registration
System, Electricity Billing System for AU Quarter Dwellers etc.
University Data updating in MHRD (AISHE) portal, etc.
Facilitating Video Conferencing Services, VOIP Services, IIRS Distant Learning Courses, etc.
Providing Lab Facility to the User Departments.
Conducting Computer Based Tests (CBT) for CUET, UGC NET, etc.
Courses Offered
Post Graduate Diploma in Computer Application (PGDCA)
Duration: Two Semesters.
Intake: 25
Technical Staff Members
Name
Designation
Area of Specialization
Angshu Maan Sen, B.E. (E. &Tc. Engg.); M. Tech
(IT), PhD (CS), F.I.E.(I), F.I.E.T.E.
Director Computer Centre
Software Requirements Engineering,
Networking
Subrata Sinha, BSc (Maths), MCA, Ph. D(CS)
System Analyst
Workflow, Web Service, Computer
Security
K. Anand Kr. Singha, B.Tech (CSE), MTech (CSE))
Networking
Engineer
Networking
Dipankar Das, M.Sc (CS)
Technical
Assistant
Natural Language Processing
Manjit Singha, Dip. in Electronics & Telecomm.
Engineering
Lab Technician
Computer Hardware and Peripherals
Director, Computer Centre: Dr Angshu Maan Sen Contact: 91-3842-281007
Eligibility for Admission into the PGDCA program
Minimum 45% marks in Bachelor degree in any discipline of Assam University or any other recognised University.